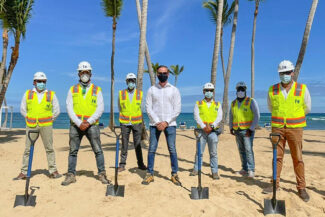 Grupo Therrestra consolidates its presence in the Dominican Republic with the construction of the exclusive "Costa Uvero Apartments"
Last Friday, January 15, 2020, the first piezo of the second stage of the Costa Uvero apartment complex was carried out. This residential, located in the Altagracia province, will make up a total of 7 buildings, with 60 apartments that will contribute to position the northern end of Punta Cana (Uvero Alto) as a new interesting tourist center in the already competitive and demanding Dominican offer.
Our President, has expressed his gratitude to the investors who make possible this luxury residential complex, which will complement the offer of the sector in the Dominican Republic, as well as has expressed the consolidation that this project implies in the plans of Grupo Therrestra, in full expansion to other Caribbean countries, it will always keep its Dominican origins in mind, betting on a perfected know-how of more than 15 years of experience in tourist and residential projects thanks to the support of more than 300 collaborators and 600 direct jobs in the Caribbean.
Author: TH Comunicaciones team